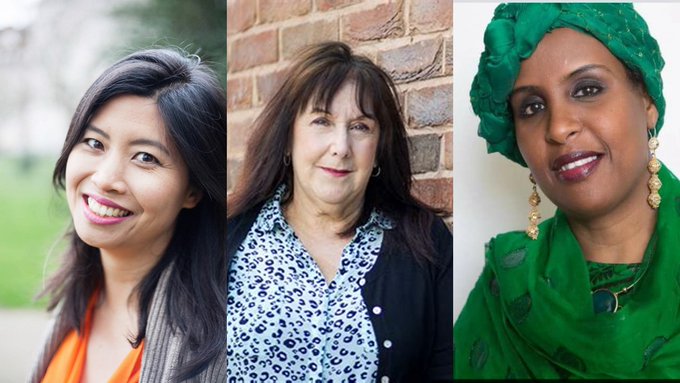 We're partnering again with Writing on the Wall in Liverpool for an important panel discussion that explores the worrying rise of gender-based violence during lockdown — and the action needed for women and girls around the world. Join our co-founder Winnie M Li alongside two other inspiring women Hibo Wardere and Gill Moglione for what is set to be a deeply insightful discussion on how we can go about making real change. Learn a bit more about our speakers and their fantastic work below.
Gill Moglione has spent all her working life encouraging women to step into their strengths and be fearless in taking on personal and professional challenges. She worked for the TUC and developed the first women only shop steward training courses. She was a member of the senior team at Women's Technology Scheme in the 1980s, setting up Blackburne House as one of the very few women only colleges, teaching women about the new technologies and electronics. Since 2006 she has set up a domestic abuse charity and developed courses specifically for women who are survivors of domestic abuse and is a founder member of Savera which tackles FGM, Forced Marriage and 'honour' based crimes. Gill is also the Chair of The Women's Organisation.
Hibo Wardere is a campaigner and educator on FGM and related issues. Born in Somalia, she moved to London as a teenager and now works in London as an FGM co-ordinator working for a new government-led prevention programme. She lives with her husband and five children in East London. Hibo's memoir Cut, not only tells her remarkable story but also sheds light on a medieval practice that's being carried out in the 21st century, and addresses how FGM in the UK has gone undocumented for too long. Devastating, searingly honest and informative, Hibo's book brings to life a clash of cultures at the heart of contemporary society and shows how female genital mutilation is a very British problem.
Winnie M Li is Co-Founder of the Clear Lines Festival. Her novel Dark Chapter is a fictional retelling of her real-life rape from victim and perpetrator perspectives. Translated into ten languages, it won The Guardian's Not The Booker Prize, and was nominated for an Edgar Award and the Best First Novel Award. Her ongoing PhD research at the London School of Economics explores media engagement by rape survivors as a form of activism. Winnie has appeared on the BBC, Sky News, Channel 4, The Guardian, The Times, The Mail on Sunday, BBC Woman's Hour, and TEDx London. Her second novel Complicit will be published in 2022.
Tickets are only £4 full price or £2 concession. Read more and buy your tickets here.You can also buy a WoWFest Festival Pass, granting you access to the entire festival here.